The soap clearly focused on natural extracts that will not cause skin to be irritated or hypersensitive. The base ingredients of the soap made from olive oil + oil tea seed. most herbal green tea, pine bark, French, honey, puree, Mahad, pennywort. turmeric, Mahad, that her words and Tanaka, root licorice.
Remove

black

skin

from

sun

burns

.

Remove

crack

After delivery

or

slim

fast

weight

fast

stretch

.

Scar

the

skin was

bright

white

.

No

scars

very heart of

Clearly

in

one

lump

The

extract

Not

thin

Sensitive skin

is available

Best

s

oap

made ​​from

olive

oil,

the

oil

seeds

.

No Chemical skin smooth and soft.
HOW TO USE
Apply soap and leave it on at least 5-10 minutes. then rinse with clean water want to see faster results, leave it longer approximately 20-30 minutes.
Green tea,
pine bark,
French,
honey
,
Amla
,
Mahad
,
sesame
, turmeric,
Mahad
,
wannangkhum
,
Tanaka
,
licorice
root
,
chemical
safety
Smooth and soft
skin
that really works
.
Note:
First of all, I would like to thank all of you who read my blog. My page views are good numbers, and I was just only starting. I promise to make more
honest and unbiased
critiques. You might have noticed that I haven't had any positive reviews yet in comparison to the seller's reviews. What I wrote here on my blog are only based on my experience. The effectivity of the product still depends on the user's skin.
Good day, mortals! I'm back with yet another review. It's 'ber months already, and it means only one thing, Christmas! Hehe. I have only one wish this Ramadan. If my wish does come true, this year will be my happiest Ramadan.
Anyway, wouldn't life be easier if before we bought a product that we want we would have found an honest review? It might minimize our cost of effort and most
especially Money,
Sad to say that's not how life is.
"It's like the magic soap that can erase any unsatisfied area on your skin. Wow!!! Don't miss this item!!! Why??? All of your dark spots will be erased within one piece. Stretch marks, acne, bottom, groin, and armpit area will be brighten and smoothen effectively."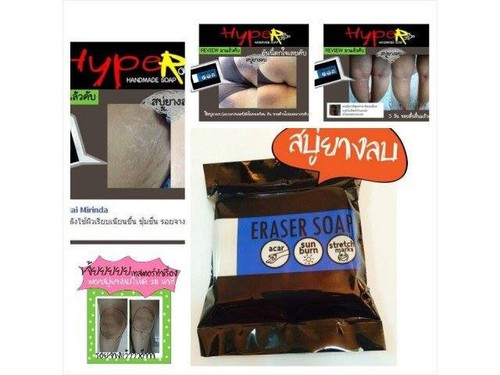 If you scan the paragraph, before this paragraph, then you probably have bought an
Eraser Soap
.
Important words, aren't they!? Every seller used that advertisement for their eraser soap. That's why advertising is called "legalized lying". I bought this soap not because I believe every word of it, but if it claims something like that then it must have been good
.
S
ad to say yet another disappointing product. It even costs too much. 320php to be exact. I've used all the soap, but
I didn't notice any effect on my body.
It didn't "erase" my stretch marks. Though my bottom, groin and armpit area are not that dark, I didn't notice any difference. It didn't even lighten my skin.
You know if a product is good you could see the effect with just 1-2 uses. Seriously. I've only tried two products like that and they are amazing.
My Friend Comment Said that:
The Best ever soap i have ever tried in my entire life.

And this hit Number #1 spot of bestest Soaps for me.

With a very affordable price, and much cheaper from other whitening Soap

s

in

the Market,

I'm

one of those consumers which doubt its effectiveness.But when i found this picture, makes me wonder and take a Risk.
Prepared by M.Ajmal Khan.