The invention of cranes made things easy for humankind because without them, loading, unloading, and lifting had to be done by human hands, would consume more time, and the entire system was not efficient at all. The ancient Greeks invented the first construction crane hundreds of years ago. Modern day construction cranes are huge, taking up tons of material hundreds of meters in height. For high end infrastructure projects,tower cranes are used that have a reach as high as 800 meters for World tallest Kalifa Tower in Dubai.
Working of Construction Cranes
A crane uses the pulley and cable system to create a mechanical advantage so that large loads can be lifted. The two most important criteria in crane design are lifting capacity and stability. Winders, cables, ropes, chains, and a basic level-pulley system are essential parts of any type of crane. The lever and other simple machines make work easier by decreasing the amount of force required to accomplish lifting and moving tasks.
Types of Cranes
1,Vehicle Mounted Cranes:
Since cranes used on construction sites are usually temporary structures, sometimes they are mounted to vehicles so that they can be easily moved. Truck-mounted cranes are usually able to travel on highways. Therefore, additional equipment is not necessary to transport the crane to the job site. When the crane is then erected at the construction site, outriggers are extended horizontally from the base of the truck and then vertically to stabilize the crane..
Mobile crane Based on boom classified as:
Telescopic boom type

Hydraulic boom

Lattice work boom

Articulated boom

Trolley boom.
,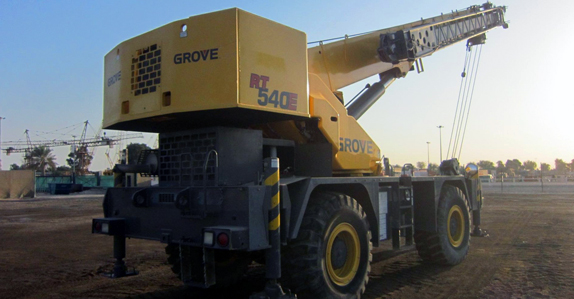 A rough terrain crane is a special type of truck-mounted crane. It is mounted to an undercarriage that has rubber tires specifically used for off-road applications. Outriggers are also used for stability with this type of crane.
A crawler crane is a mobile crane that does not require outriggers for stability. A crawler crane is mounted to a chassis with a set of tracks instead of tires and has a lifting capacity from 40 tons to 3500 tons. Although crawler cranes are mobile around a site, they usually need to be disassembled and loaded on to transport trucks for movement between sites.
Loader Crane began selling and installing articulating loader cranes in 1985. Articulating cranes, also known as knuckle boom cranes, were widely used in Europe where the technology was developed, but were relatively unknown in North America. Loader Crane helped pioneer the new technology by showing customers how to work safer and more productively with knuckleboom cranes.

These cranes stand out for their ability to combine exceptional lifting performance with a machine body that reduces structural dimensions to a minimum and aims at limiting tare weight. This is possible thanks to the use of special materials, first among which are the extremely high elasticity steels which, while they ensure formidable levels of resistance, also make it possible to optimise weight

although this has to be reconciled with dynamics, which are an integral part of the very concept of hydraulic cranes.
Different types of cranes exist depending on the particular job that needs to be completed. One of the most commonly seen cranes seen in cities is a tower crane. Tower cranes were initially developed in Europe and are now popular all over the world. A tower crane is used in the construction of tall buildings. This type crane can reach up to 265 feet, out to 230 feet, and lift a total of approximately 20 tons. Tower cranes are fixed to the ground during the construction period. A tower crane is always mounted over a strong concrete pad so that anchor bolts can be embedded into the pad, which hold the tower crane when it is lifting heavy loads.
This cranes are a modern form of balance crane that consist of the same basic parts. Fixed to the ground on a concrete slab (and sometimes attached to the sides of structures as well), tower cranes often give the best combination of height and lifting capacity and are used in the construction of tall buildings. The base is then attached to the mast which gives the crane its height. Further the mast is attached to the slewing unit (gear and motor) that allows the crane to rotate. On top of the slewing unit there are three main parts which are: the long horizontal jib (working arm), shorter counter-jib, and the operator's cab.
Overhead crane:
Overhead cranes, sometimes also called bridge cranes, are cranes with a hoist traveling along the bridge between parallel runways. They are designed to meet the medium to heavy industrial lifting requirements, covering all parts of manufacturing process.
This is a type of crane where the hook-and-line mechanism runs along a horizontal beam that itself runs along two widely separated rails. Often it is in a long factory building and runs along rails along the building's two long walls. It is similar to a

gantry crane

. Overhead cranes typically consist of either a single beam or a double beam construction. These can be built using typical steel beams or a more complex box girder type. Pictured on the right is a single bridge box girder crane with the

hoist

and system operated with a control pendant. Double girder bridge are more typical when needing heavier capacity systems from 10 tons and above. The advantage of the box girder type configuration results in a system that has a lower dead weight yet a stronger overall system integrity. Also included would be a hoist to lift the items, the bridge, which spans the area covered by the crane, and a trolley to move along the bridge.
Types of Overhead Cranes
2,Overhead Travelling (From Beam)
4, wall Travelling (From Wall)
Gantry Overhead crane
A gantry crane is a type of overhead crane with supports that hold it up that are fixed in location. This means that the crane cannot move, so everything that it is going to lift must be brought to the crane. The supports form a large rectangular frame upon which the crane can move forward and back, and left and right. Anything that can be reached by the gantry crane is referred to as being in its operating area.
A ship-to-shore rail mounted gantry crane is a specialised version of the gantry crane in which the horizontal gantry rails and their supporting beam are

cantilevered

out from between frame uprights spaced to suit the length of a standard freight container, so that the beam supporting the rails projects over a

quayside

and over the width of an adjacent ship allowing the hoist to lift containers from the quay and move out along the rails to place the containers on the ship.
Electro-hydraulic slewing cranes for operation in dockyards provide economical and space-saving solutions for the shipbuilding industry. These cranes are available on rail-mounted travelling gantries (TCC) and are ideal for yards with limited room for manoeuvre or where low ground pressures are essential. The lattice type boom provide for the necessary high outreaches with low weight. Optional features include auxiliary hoists allowing for small loads at extended outreaches with extremely high hoisting speeds.
Work
station gantry cranes






Workstation gantry cranes are used to lift and transport smaller items around a working area in a factory or machine shop. Some workstation gantry cranes are equipped with an enclosed track, while others use an I-beam, or other extruded shapes, for the running surface.
Rail Mounted Gantry (RMG) cranes are the result of decades of crane design experience and performance in the field. They incorporate both recent innovations and technologies proven in millions of on-the job working hours to provide high performance, reliability, easy and accurate steering, low operating costs and low energy consumption. We can tailor our RMGs for your specific operation. We deliver them in different sizes and configurations including zero outreach and outreach from both sides, with both rotating and non-rotating trolleys that are designed to lift all container and trailer types.
This is most common type of overhead crane, found in most factories. As obvious from name, these cranes are electrically operated by a control pendant, radio/IR remote pendant or from an operator cabin attached with the crane itself.
As Level Luffing (Slewing) crane manufactures offer both single and double boom solutions, as well as static or mobile rail-mounted installations for handling general cargo, containers and bulk materials.
Luffing cranes keep the hook or grab at the same height whilst moving the jib up and down, with the hook movement coming from raising and lowering the jib arm.
The advantages of Level Luffing cranes are that they offer high lifting capacities, accurate positioning of the hook or grab and high duty ratings. These advantages make Level Luffing cranes perfect for ports, dockyards and industrial sites.



Aerial Cranes :
Helicopters used to lift heavy loads are called aerial cranes or sky cranes. These are usually awkward-looking helicopters carrying loads connected to long cables or slings in order to place heavy equipment.
Aerial cranes are usually a last resort, deployed when all other methods have been exhausted, and it becomes economically feasible.
Often this means that the job in question must be accomplished in remote or inaccessible areas, such as the tops of tall buildings or the top of a hill or mountain, far from
the nearest road.
Crane Safety principles..
1
.
Never override the crane's computer.
2. Be aware of all overhead hazards – specifically close-by buildings and any power lines that are within the zone of operation.
3. Read the load charts – prior to turning the key in any new mobile crane.
4. Cell phones in the cab – while the crane's key is on the cell phone is off.
5. Always note the changing conditions on the job site – from personnel to weather to surroundings.
6. Sometimes in a working situation, the crane operator needs to stop, evaluate, and find a safer lift plan.
7. Check ground conditions – before crane setup, ensure that the site is suitable to support your mobile crane and the future suspended loads.
8. Use appropriate pads & cribbing – mobile crane operators need to make sure they are using correct pads or cribbing to avoid having an outrigger fail or sink when they are making a lift.
9. Before starting your crane, always double check the oil, gas, and other fluid levels.
10. At the beginning of your shift, walk-around your crane checking for mechanical, electrical, structural, and hydraulic issues (MESH).
Mobile crane operators are a small brotherhood whose main goal is to ensure the safety of those we are working with. If we can avoid a few simple operating errors, it will go a long way in avoiding an incident on the job site.
Prepared and Collection by : M.Ajmal Khan.